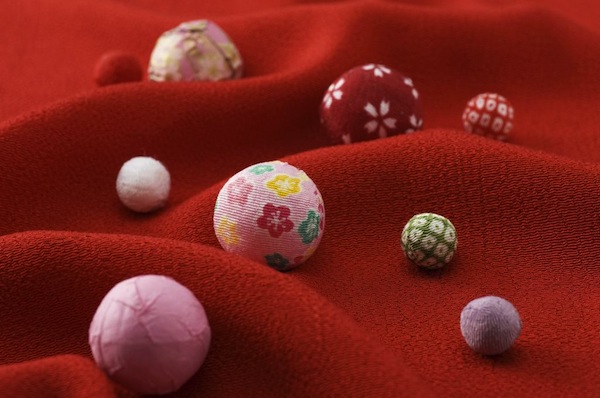 Crepe
The crape is a silk fabric on which there is a fine convexo-concave pattern on the whole, it is often used for a kimono, neckpiece on a kimono, and obi sash also. Crape has been favored as a material for wrapping cloth or handicraft, It is a very popular kimono fabric.
It is made from silk originally, however, that of chemical fiber has also been distributed in large quantities in these days. The convexo-concave pattern of the fabric surface is called "shibo", the crape with a large shibo is the old crape or the devil crape. A well known "hitokoshi-crape" is a typical example of the crape with a fine shibo. The crape is woven using untwisted warps and strong twisted yarns as wefts.
When the woven fabric is refined (that is, removing oil and such on the thread surface), twisted wefts change into untwisted, and then the shibo can be obtained. In Hitokoshi crepe, we put one by one the hard twist yarn twist twisting right and the hard twist yarn twist twisting left. It is called a "Hitokoshi" by putting one of the numbers.  The devil crape is called "Futakoshi", on the other hand, because we put two pieces of twisted right and two pieces of twisted left. The thread which is not refined is not dyed neatly. Because the crape is refined after being woven, it is dyed after weaving, and then a piece-dyed kimono is completed.