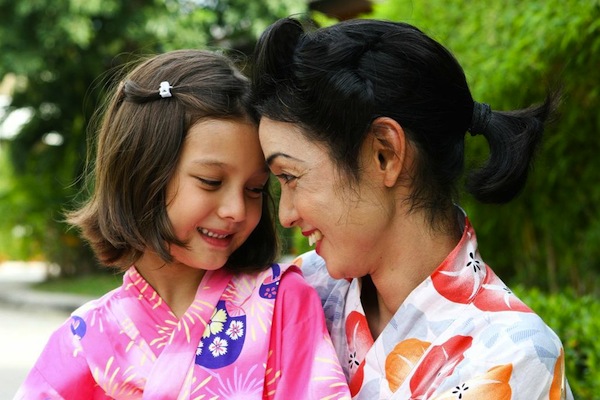 Ro-silk gauze and shya-silk gauze
summer kimonos have two kinds of silk guzes, ro and shya. Both are "cloths with translucency ," but a close look shows as if ro-gauze has lines at an equal interval. Shya-gauze has no such lines but looks transparent evenly all over.
The ro-gauze appears to have lines because a part with a gap and that without comes alternately, and the part with a gap is called "ro-me." The ro-me that runs laterally is called Yoko-ro (Lateral-ro) and lengthwise Tate-ro (lengthwise-ro). Sha historically are older and are easier to weave. However, there had been a problem of laying patterns beautifully as there was too much gap.  So then Ro were created as an impoved version of Sha in near the Edo period. Ro showcase colors more beautifully, and are not excessively see-through. So many summer kimono we see now are made of Ro.  However, many people still adore Sha as they provide more cooling effect, and Sha have this distinctive gentle texture. Also, Sha are sometimes made into "Sha-Awase" by stacking two fabrics together.  These are not commonly used, so you can tell how much she loves kimono if you see a person wearing Sha-Awase.