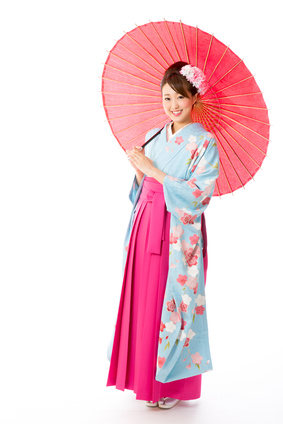 March is graduation season. Hakama is trending in recent graduation ceremonies, but, in fact, it is not a thing as old as history.
Hakama is old in itself, but the wearing of a Hakama during graduation is a story of the last few decades. So there are no strict rules and everyone can enjoy and freely wear them.
On the other hand, when mothers attend their kid's graduation ceremony, they seem to take caution in various ways. It should not be too noticeable, should be top quality, and dressing appropriately for a formal ceremony, so it is finished with solid colors.
I think that solid colors around the double-woven obi is safe for the graduation ceremony, but the tradition changes depending on the region, so it will be better to consult with the people around if this is a concern.
Rather than being concerned with the event, a casual outing is the period that the spring kimono color pattern is noticeable. I think because it is tradition to incorporate little flowers earlier than when they actually bloom on pictures of flowers, for example, such as a band drawn with cherry blossoms, so it is just the right time starting March.