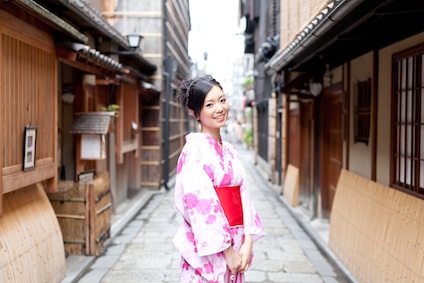 July is a season of wearing thin kimono. Thin kimono means komono which is transparent, and not only silk but also linen is used.
However, these days, only those who wear kimono all the year round such as teacher of wearing kimono and tea ceremony prepare thin kimono. In general, most people wear yukata,which is easier to handle.
Originally yukata had been used when taking a bath, and it was rude to wear yukata and walk around in old days. But the yukata at that time and the one we wear now are completely different.
The yukata worn when we go out is a thin one made of cotton, simply speaking. We can wash yukata by wash easily, and it is the best kimono in summer when we have sweat.
The characteristics of yukata is "not to wear juban", but when we wear when we go out, we usually wear it as kimono by showing haneri and wearing tabi. As for obi, we use not thin obi for yukata but Nagoya obi for summer or stable hannhaba obi.
You have a large selection of design for yukata, but when you wear when you go out, it is good to select the one with design of traditional morning glory and gold fish.
People says that strange design is not elegant, and you should be careful about it.